This drive has ended and the page you see is for archival purposes only. Please visit our join page if you would like to make a donation.

with the Texas Tribune…
statewide news comes to you.
Behind the talking heads and politics are the real issues that impact everyday Texans. We work tirelessly to provide high-quality news and information to millions of Texans who seek a nonpartisan alternative to the mainstream media.
When you support The Texas Tribune, you are supporting not just our operations, but the very idea behind the Tribune: that a more educated, informed and engaged population is a necessary ingredient to the very best Texas.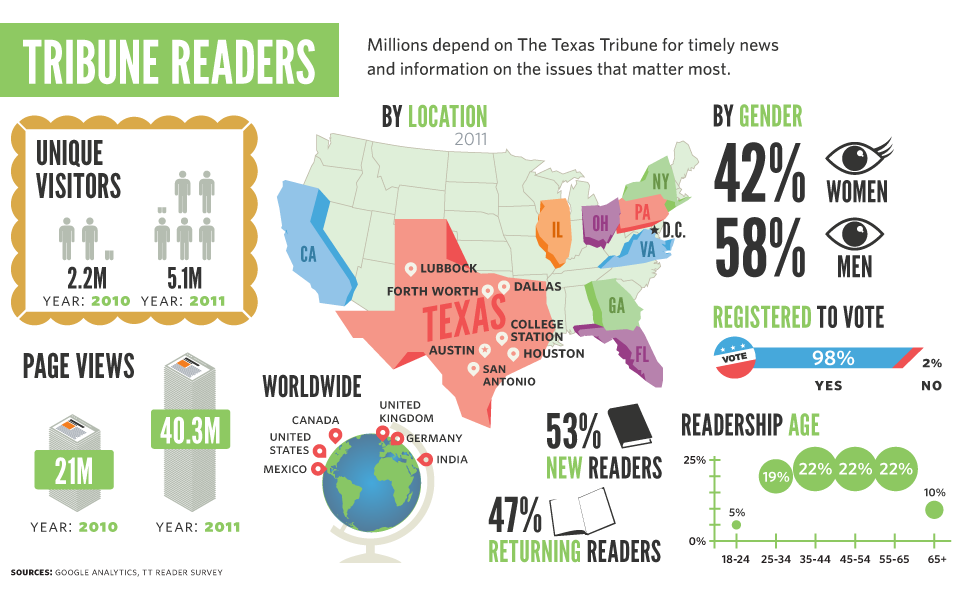 Stand with the Texas Tribune.
Become a member or renew today.
Your Membership Entitles You To These Benefits
Texas Tribune monthly newsletter
Invitation to Tribune happy hours
Member discount for ticketed Tribune events
Your name as a donor on our site
Dual/household membership
TribMonth, a monthly roundup of the Trib's best material
An invitation to the end-of-year cocktail "State of the State" reception
The Texas Tribune Yearbook
Donor Board Recognition at Tribune conversation series events
Invitations to exclusive social events during the Texas Tribune Festival
Reserved seating at select events
Opportunity to promote the nonprofit of your choice on the Tribune site for a year
Invitation to small VIP Tribune gatherings
Reserved seating and parking at Tribune conversation series at the Austin Club
Prefer to mail in your donation?
Click here for a printable form.
For questions regarding Texas Tribune membership, please contact
Natalie Choate at nchoate@texastribune.org or (512) 716-8640.